YgO's music is being used as the outro music for hilarious new podcast.
The new podcast, Atheist Airwaves, is playing YgO for their outro music. This has to be one of the funniest podcasts out there. It's available on iTunes and YouTube. You can also listen to it live and comment in their chat room, which often generates additional on air discussion. Their website is atheistairwaves.com. Here you'll find their logo at the top and just underneath it, their slogan, "Building a personal relationship with reality.".
Manic Episode – The Artist/Musician Behind YgO Interviewed on The Herd Mentality Podcast
For the first time publicly, Atom, the artist/musician behind YgO, shares an embarassing, yet exciting story. The chain of events eventually led to the inspiration behind YgO, the virtual band beyond belief. Up until this point, only a few family members and close friends have heard the story. In Epidsode 36 of The Herd Mentality Podcast there's an exclusive interview with show host Adam Reakes.
Atom tells the story of how one night's strange experience led to sleep deprivation and triggered a manic episode that put him in a mental health facility. The whole chain of events included a couple trips to the emergency room and some extremely delusional thinking. Hear how this dramatic, life changing event, in more ways than one, ended up being a positive turn for the better. Critical thinking skills, science and reason turn out to be the savior and the artist's greatest inspiration.
It was an honor for Atom to be on this relatively new podcast, which has already had some notable guests. Those past interviewees include other well known podcast hosts, notable scientists and even actor Ricky Gervais.
While the interview doesn't delve into every single detail of the story or the virtual band, the foundation is laid. It lasts about 20 minutes and is the first feature of the podcast. The birth of YgO, the virtual band beyond belief, may not have happened without this manic episode and temporary brush with insanity. You can listen to that Herd Mentality Episode 36  by clicking right here: http://herdmentalitypodcast.com/. Go to the Episode menu and scroll to #36. Also available on iTunes in the Podcasts section.
—————————————————————————————————————————————–
Our first full length video:
http://www.prlog.org/12242625.html  or read it below:
Virtual Band Beyond Belief Reveals All in Video Premiering Christmas Day
Band Members Are 50% Sci-Fi, 50% Freak Show. Music. Art. Science. Reason.
A new and unique virtual band is set to premiere its first full length video on Christmas day. There seems to be a couple definitions of virtual band floating around. One is when musicians in different places play and/or record their parts separately as if they were a typical live band. The other definition describes an animated or cartoon style band in which the fictional characters get the credit for making the music.
Modern popular examples of virtual bands include Gorillaz and Dethklok. YgO appears to be the world's first music AND art virtual band solo project, "other than occasional collaborations". It is also being done anonymously. YgO uses the tag line of The virtual band beyond belief. and displays the recurring themes Music. Art. Science. Reason. on the band's website and elsewhere. This is unique in itself, but there are other reasons too.
YgO has been revealing its band members one by one over the past several months. They've been accurately described as "50% sci-fi and 50% freakshow". Now that all of the band members have been revealed to their growing fan base, the first full length video for a song is due for release on December 25th. It will introduce the band members and their sound, which has been described as "a punk Black Sabbath". That sound seems to have elements of heavy metal, punk rock, blues and some explorative experimentation as well.
A hermorphrobot (whatever that is)? A drumming octopus? Strange droids? These band members are strange indeed. If you'd like to see and hear them for yourself, you can either wait until the video premieres, on YouTube December 25th, or you can get some insight and two free songs downloads at www.ygoband.info. At this site they'll ask you to join them in The Enlightningment EV (electric vehicle), a shiny, silver trailer pulled by a '59 El Camino hearse. Just click on the green button that says "get in and hold on". You'll then become part of their Army of Nones. No worries though, you're only asked for a first name and email address. They promise not to spam you or share your info. In fact, they don't even have anything to sell at this point, other than maybe the virtues of critical thinking?
One more thing… if you were wondering what the YgO acronym stands for, you can find that out too, but don't say we didn't warn you that it's blasphemous and may be offensive to some.
Happy Holidays!
1/18/14 Update, here's the video: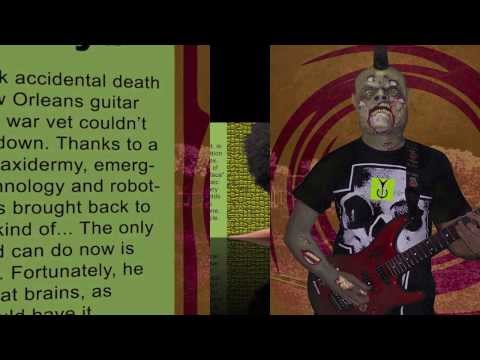 ____________________________________________________________________________
All of the YgO band members have now been revealed. Meet them on the Band pull down menu.
First press release:
http://www.prlog.org/12180286-ygo-the-virtual-band-beyond-belief-video-debut-music-art-science-reason.html